Community-Centered View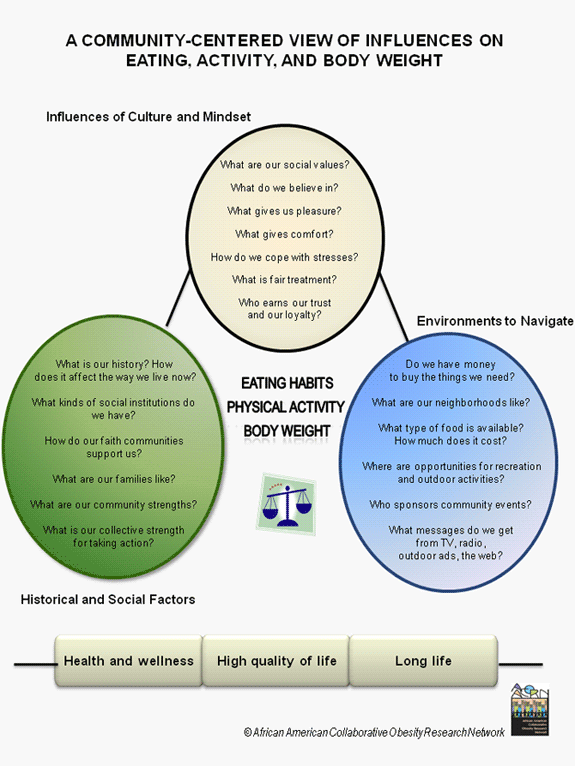 The African American Collaborative Obesity Research Network (AACORN) uses a community-centered approach for thinking through approaches to prevention and treatment of overweight and obesity. The underlying concept is that approaches to intervening on obesity are better framed in very 'people-oriented' terms. We ask: How do eating, physical activity and weight reflect the opportunities, constraints, and issues in people's everyday lives? What aspects of people's everyday lives and circumstances must be considered in order to develop appropriate, effective, and sustainable intervention approaches? How can interventions on obesity support high quality of life and community priorities that are broader than food, activity, or weight?

In other words, it is not simply a matter of teaching people about how many calories are in their food or how long they have to exercise to burn a certain number of calories. Far from it - many people in African American communities already know this information. The issue is much more complicated.

The model shown in the diagram calls for reflection of several different types of community-level factors that, in combination, influence: a) eating habits and physical activity and, ultimately, body weight and body fatness; and b) resources available to take positive actions to address health problems that may be associated with some aspects of current eating or activity habits or weight levels.
This diagram is a companion to AACORN's "expanded obesity research paradigm," a model that is oriented primarily to researchers who design studies of obesity prevention and treatment. It has been created to facilitate discussions among community members and between academically-based researchers and their community research partners. The focus on eating, physical activity, and body weight is at the center because the ultimate goal is to identify how the various influences from daily life influence and reinforce these aspects of health status. The balance scale is a reminder of the reality that extra weight is gained when the amount of calories eaten is too high and the calories used are too low. Discussion of this model can begin with any of the circles and can go back and forth among the circles, using the questions as prompts to discuss the general issues in each category and, to also discuss, how they influence eating, activity, and weight.

Similar to AACORN's research paradigm, this diagram was developed with a particular focus on African American communities. However, the concepts and the graphic have potential applicability to diverse communities. This model is geared to a collective or group perspective, i.e., what are the behaviors 'on average' or that tend to be the most common. The 'our' and 'we' references in the questions assume that those engaged in the discussion identify as having something in common in a way that makes them participants in the same community. This could be a geographical community (neighborhood), but not necessarily so. This approach recognizes that individuals within the community have a lot of variation in what they eat, how active they are, or whether they are overweight, but focuses on the issue that improvements on these fronts are needed to foster health and wellness and, therefore, high quality of life and longevity.
Click here for the PDF.